Malam semalam memang istimewa kerana Malam Nisfu Syaaban kali ini dihiasi dengan wajah bulan purnama yang sungguh cantik. Paras air laut di FCU juga sangat tinggi hingga hampir mencecah lantai. Memang seronok dan suasana malam sungguh ceria. FCU ASTRONOMY tidak ketinggalan untuk menyaksikan phenomena Perigee Full Moon @ Supermoon semalam.
Seperti biasa pemerhatian dibuat bertempat di Balai Cerap 3 FCU ( Beranda belakang mengadap lautan). Apabila
MAKING A HOUSE IN THE SEA 1
siap kelak, Balai Cerap 3 FCU akan berada jauh ke dalam laut dibandingkan kedudukan sekarang. Lokasi ini akan lebih menyemarakkan lagi kegiatan astronomi kami kerana ianya jauh sedikit dari gangguan cahaya lampu dari rumah-rumah jiran.
Sebaik sahaja lepas berbuka puasa semalam (23 Jun 2013), STATION FCU 1 dan STATION FCU 2 digabungkan menerusi Skype untuk Majlis Ilmu Nisfu Syaaban. Semoga buku-buku kita diangkat ke langit dalam keadaan kita tidak lupa dari mengingati Allah. Nabi Muhammad s.a.w. menggalakkan umatnya untuk bangun malam dan berjaga serta beriktikaf sepanjang malam kerana tidak mahu amalan diangkat dalam keadaan tidur atau lalai. Bertuahlah mereka yang menghidupkan Malam Nisfu Syaaban kerana ianya merupakan malam kedua mulia selepas Malam Lailatul Qadar. Apalagi bila menghidupkan malam yang bertemankan bulan yang begitu cantik di langit angkasa. Subhanallah....
Tarikh malam Nisfu Syaaban 2013 di Malaysia mengikut kalendar islam. Nisfu Syaaban merupakan pertengahan bulan atau 15 Syaaban dalam kalender Hijrah. Dalam Kaledar islam, 10 Jun 2013 merupakan bermulanya awal bulan Syaaban iaitu 1 Syaaban. Oleh itu, pada 15 hari dalam bulan Syaaban, 24 Jun adalah Nisfu Syaaban yang bersamaan dengan 15 Syaaban 1434H. Manakala malam Nisfu Syaaban pada 23 Jun selepas waktu Maghrib.
Gambar di atas menunjukkan perbezaan bentuk bulan di mana masa supermoon, bentuk bulan adalah lebih besar dari normal. Ini kerana kedududkan bulan berada hampir dekat dengan bumi dan fenomena ini dikenali supermoon. Mesti ramai peminat astronomi yang melihat fenomena ini semalam. Bulan berputar dalam paksinya yang berbentuk bujur dan bukannya bulat. Ada masanya bulan akan berada dekat dengan Bumi dan kejadian ini akan mencetuskan fenomena supermoon.
PUNCA KEJADIAN FENOMENA PERIGEE FULL MOON @SUPERMOON
Menurut kajian saintifik, fenomena Supermoon boleh menyebabkan kenaikan paras air laut seterusnya mempengaruhi pasang surut air laut. Walaubagaimanapun, National Oceanic and Atmospheric Administration (NOAA) meramalkan tiada bencana besar akan berlaku susulan fenomena Supermoon.
BILAKAN FENOMENA PERIGEE FULL MOON INI BERLAKU SETIAP TAHUN?
Mengikut perkiraan astronomi, fenomena ini akan berlaku setiap 1 tahun 1 bulan 18 hari dimana Bulan Penuh akan berada pada kedudukan Perigee (iaitu paling hampir dengan Bumi). Maka saiz bulan akan kelihatan 'besar sikit' daripada biasa. Itu hampir mustahil untuk 'dibezakan' dengan mata kasar, melainkan kita guna kaedah seperti astrofotografi untuk kira saiz bulan di langit.
Sebelum ni Perigee Full Moon berlaku pada 6 Mei 2012, dan sebelum tu lagi 19 Mac 2011. Insyaallah pada tahun depan akan berlaku pada 10 Ogos 2014. Di bawah ini saya sertakan beberapa phota supermoon 2013(ikhsan dari google ). Serata dunia, bulan akan kelihatan 14% lebih besar dari bulan mengambang biasa dan cahayanya juga adalah 30% lebih cerah
Jepun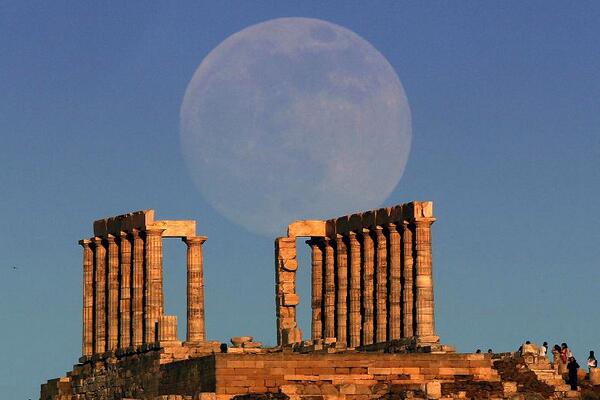 Over the Temple of Poseidon in Greece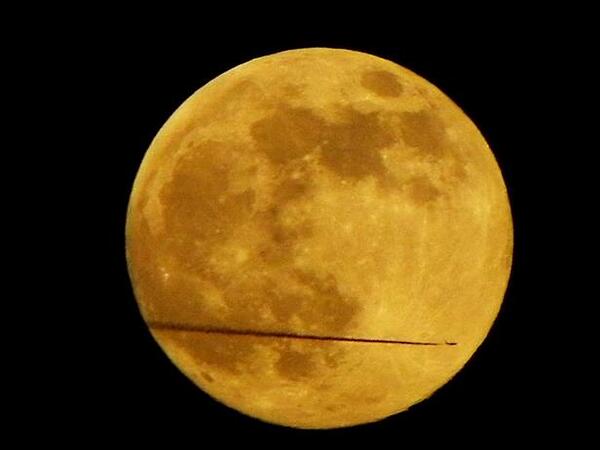 Kapal terbang melintasi bulan
SAMBUTLAH SALAM NISFU SYAABAN DARI
FCUHOMESCHOOLING UNTUK SEMUA !!